5 Things You Need To Fix In Your Small Business Website Today
We all make mistakes. One of the many benefits of having a professionally created website is that they can be easily fixed.
Admittedly, fixing all of these problems yourself may be beyond some people's skill set. This last one most certainly will be.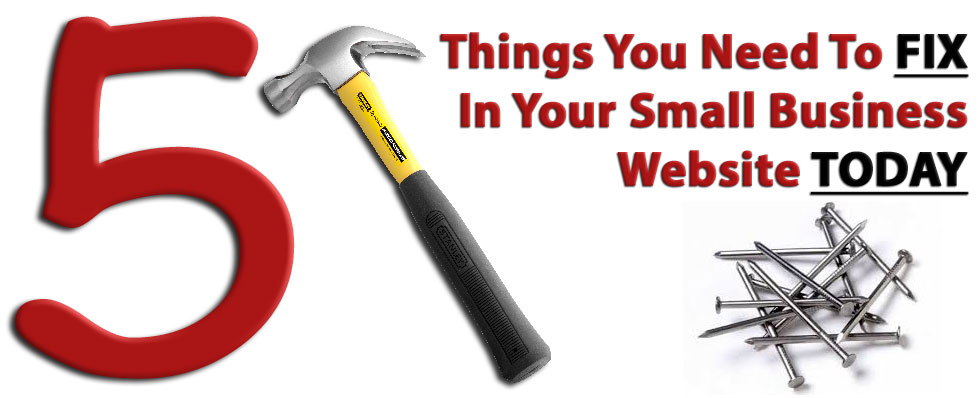 Spelling. One or two mistakes some people will forgive. Several spelling mistakes diminishes your credibility and will cost you sales.

Double and then triple check your spelling.

Everything we publish at ORP.ca is typed in Word, Pages or some other word processor software in order to ensure that spelling (and grammar) are as accurate as possible.

Next step, the text is edited by a staff member, someone who did not write the article. If you made the mistake in the first place, chances are you will not see it. Get a second set of eyes to read through your post and make sure it is clear, and that spelling is correct.

Now, when you add it to your website, make sure that your site's CMS text editor has it's spell check turned on. That's three steps to make sure your spelling is accurate right there.

JCE, the most popular content editor used with Joomla has a built in spellchecker, and although it's pretty reliable, it is not perfect. So if you type directly into your Joomla website, especially with longer articles, copy/paste the information into Word or any other text editor just to make sure your spelling is correct.
Missing or out-of-date contact information. Ever click on an email address in a website, send a message and then have it bounce back because the email address was incorrect. It's annoying isn't it?

Or have you ever connected with someone at a networking event, and then lost their business card. Remembering who they work for is great. Forgetting their name and contact details is fine, but when you get to the business website and their not listed in the directory, that valuable face-to-face connection is worthless.

We could give you a ton of examples of why contact information and staff directories need to be kept up to date, but regardless this is something that is an easy fix.
Broken links. Actually, this is part of the out-of-date content and contact information points above.

Most websites have links to PDFs and to external websites. You should set aside some time to go page by page and make sure they work. This is easier to do if you have a smaller site, and will also gives you a chance to review your website, and see if other issues have come up.

If you have a lot of pages, you can always use this Free Broken Link Checker.


Broken photo and image links. I attended a sales course many years ago where the moderator stated that people are always looking for ways to tell you "no" in a sales situation. I'm not sure if I completely agree with that, but I will say I've sat in boardrooms and watch decision makers vote against purchases because of too many broken image links.

Why? They thought it looked sloppy, and felt that if the business owner didn't care about how their products looked, then what was going to be the overall quality of the products and services being offered.
Stale or out-of-date content. Remember that special you ran a few months ago? Still getting calls about it? Chances are the people contacting you are looking at out-of-date information on your website.

Many Content Management Systems (CMS) like Joomla for example, give website admins the ability to schedule when content goes live, and when it is replaced.

Also, you do not always have to write new articles. Sometimes, you can just freshen things

BTW. People do look at footers as well, and the copyright date in your website footer should have the current year, not last year or even worse 10 years ago.
BONUS - Update the look of your site. Make sure It's Mobile Friendly.

This is essential these days. All websites need to be mobile friendly or face delisting from Google. Some people will say they use Bing or some other search engine, but Google receives an estimated 3.5 billion search requests a day compared to Bing which received reportedly just under 900 million requests daily. That means Google is accessed almost 4 times more than Bing's 1 visit.

You can get more information straight from Google on the need for mobile sites by reading this article straight from the proverbial horse's mouth "Make sure your site's ready for mobile-friendly Google search results."

After they published this, Google realized that hundreds of millions of websites would be affected, and so they issued a grace period. But that expired in November of 2016, and since then there have been many calls of "where'd my website go in Google listings" heard throughout the land.

As an added bonus, fresh website content gives both you and your customers something to be excited about. Website traffic almost always increases after a site relaunch, and if you have a new digital marketing strategy in place to go with your new site, your chances of increased contact with your ideal customers will go up as well.
Your website is often your first contact with potential new clients. Like any introduction, make sure to put your best foot forward.
The Team @ ORP.ca
Have a question or a comment? Fill out the form below and we'll get back to you.