Email Marketing Basics: Now Is The Perfect Time To Start Email Marketing
Especially for Small Businesses and Business Professionals
An article by ORP.ca Websites + Marketing - Our Expertise + your Success - Services for Small Business and Business Professionals
If you're running a small business or trying to up your professional game, you might wonder if email marketing is still worthwhile.
Not only is it still worth the time and effort, but it is also an excellent tool to communicate with your ideal target audience, build strong relationships and increase your business.
So, if you've been holding off on email marketing, don't worry; you're not too late to start.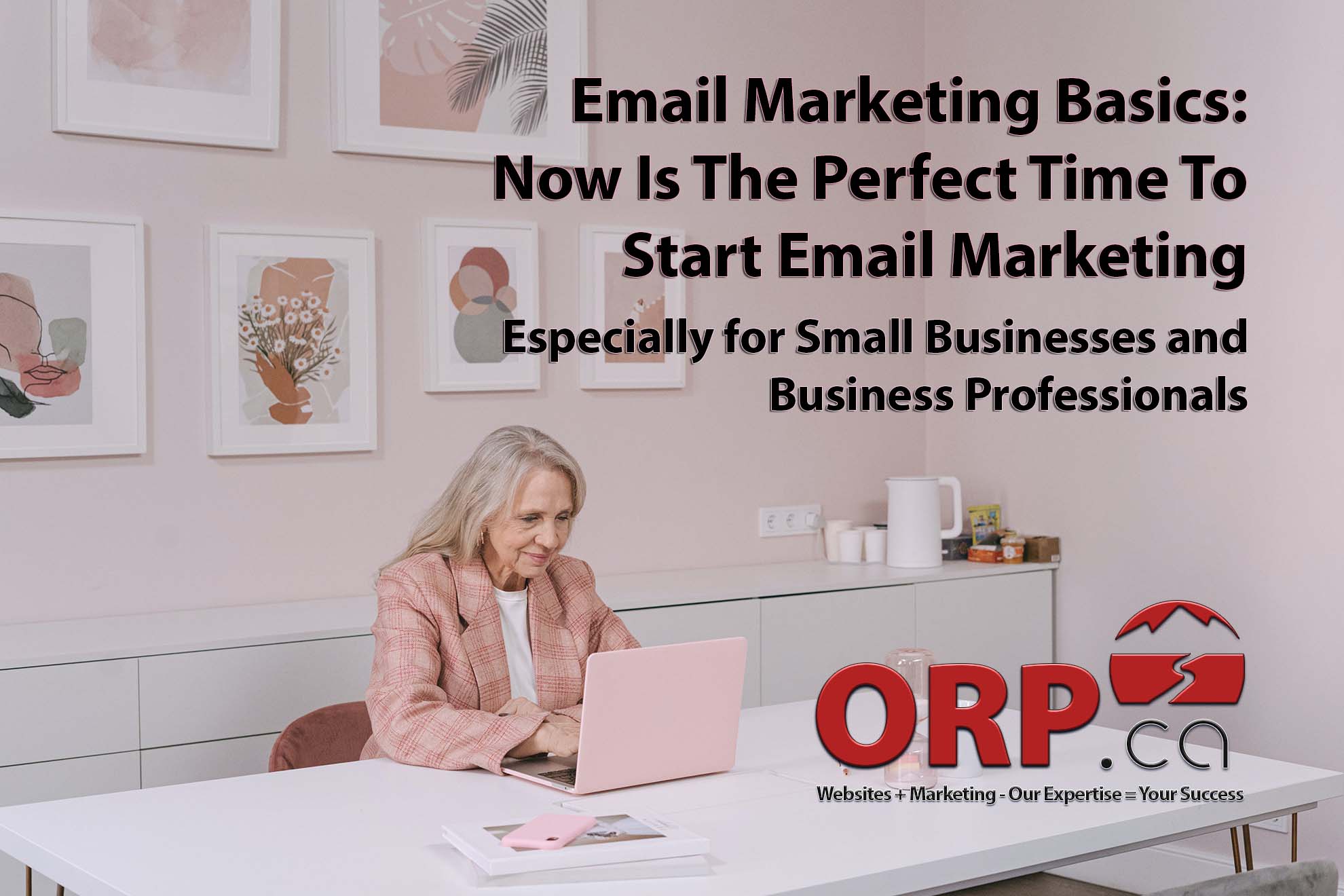 Actually, right now is the perfect time to dive into it because statistics show that the effectiveness of email marketing campaigns is increasing! According to an article published by Hubspot in 2023, "77% of marketers have seen an increase in email engagement over the last 12 months."
Why Email Marketing Still Works
Direct and Personal Chats:
Think of email marketing as a direct line to your ideal customer. It's like talking to your friends without the social media noise. With email, you can get personal and talk to each subscriber like they're your friend. You can even use their names and send them information they care about.
Bang for Your Buck:
We all want a bang for our buck, right? Well, email marketing gives you a bigger bang for your smaller investment. It's very cost-effective. You can reach lots of people without breaking the bank. So, if you're a small business on a tight budget, this is a gem!
According to a study from Litmus.com in 2022, "email drives an ROI of $36 for every dollar spent."
Build Trust and Credibility:
Email marketing helps you build trust and credibility. By sending quality information, helpful tips and special offers, you're not just selling. You're giving your subscribers reasons to keep reading and building trust.
As stated by MarketTailoer.io in May of this year, "When subscribers receive personalized and relevant content that speaks directly to their needs and interests, they're more likely to engage with your emails and view your brand as a trusted source of information."
Measure What Matters:
Do you want to know what's working and what's not? Email marketing's is the best way to go. You can track open rates, click-through rates and more. This data tells you what keeps your audience engaged and what doesn't. That way, you can tweak your emails as you progress for even better results.
Check out this informative video from Google for Small Business, "Measuring success in email marketing."
Create Loyal, Long-Term Customers:
Email marketing helps you strengthen ties with long-term customers while growing relationships with new ones along the way. You can send newsletters, updates, and offers to your subscribers to keep interest alive. Doing this keeps customers coming back and shouting your name from the rooftops.
Here is an article from Userpilot.com titled "5 Best Customer Retention Emails (With Examples)" with some great ideas from some of the most successful companies that you can use as a starting point for your campaigns.
How to Use Email Marketing in Interesting Ways
Gratitude Campaigns:
Do you want to promote your products and services through sales targeted at existing customers? Email is your quickest way. You can get your subscriber's attention with clever and clear messages that'll make them go, "Wow, gotta check that out!"
Education Campaigns:
Teaching people something useful about the products and services you offer can make you the "go-to expert" in those areas. By regularly sharing tips, guides or how-tos in your emails, your subscribers will keep you top-of-mind in your field.
Hello and Welcome Campaigns:
When someone signs up or buys something, it's your chance to say "Hello" and make a good impression. Welcome emails can guide them on an exciting and fruitful journey with you.
Bring 'Em Back Campaigns:
Some subscribers might ghost you after a while. It happens. But you can win them back with re-engagement emails. Provide them with a special offer, ask what they want or show them some unique content you think will win them back.
Party and Event Campaigns:
Do you have an event, webinar or workshop to promote? Email is your RSVP. Share details, speakers and reminders to ensure your audience doesn't miss out on the fun.
Email marketing is still an essential marketing tool for small business owners and business professionals. It's versatile, budget-friendly, and helps you make lasting connections. If you've been holding back, don't worry. It's not too late to start with email marketing and see your business and career soar!
Are you looking to reignite your small business through email marketing but need guidance?
Get started immediately by filling out the form below to reserve your virtual meeting with ORP.ca today!
Photo provided by Ivan Samkov through Pexels.com
Sources for this article used by ORP.ca Websites + Marketing - Our Expertise + your Success - Services for Small Business and Business Professionals:
The Ultimate List of Email Marketing Stats for 2023 - https://blog.hubspot.com/marketing/email-marketing-stats
Email Marketing ROI: What leads to better returns? - https://www.litmus.com/resources/email-marketing-roi/
The importance of building trust in email marketing - https://www.markettailor.io/blog/importance-of-building-trust-in-email-marketing#
How to measure success in email marketing - https://smallbusiness.withgoogle.com/free-google-training/measuring-success-in-email-marketing/#!/
5 Best Customer Retention Emails (With Examples) - https://userpilot.com/blog/5-best-retention-emails/