Five Steps To Building Your First Website:
A Practical Guide For New Business Owners That Experienced Professionals Can Use As Well.
Building a new website for your new (or existing) business is a crucial step in establishing an online presence and attracting customers.
It was September 12th, 2003, when ORP.ca first started. Many months of planning and preparation went into what was effectively a soft launch.
In reflecting on that momentous occasion, we've been thinking a lot about those initial first days.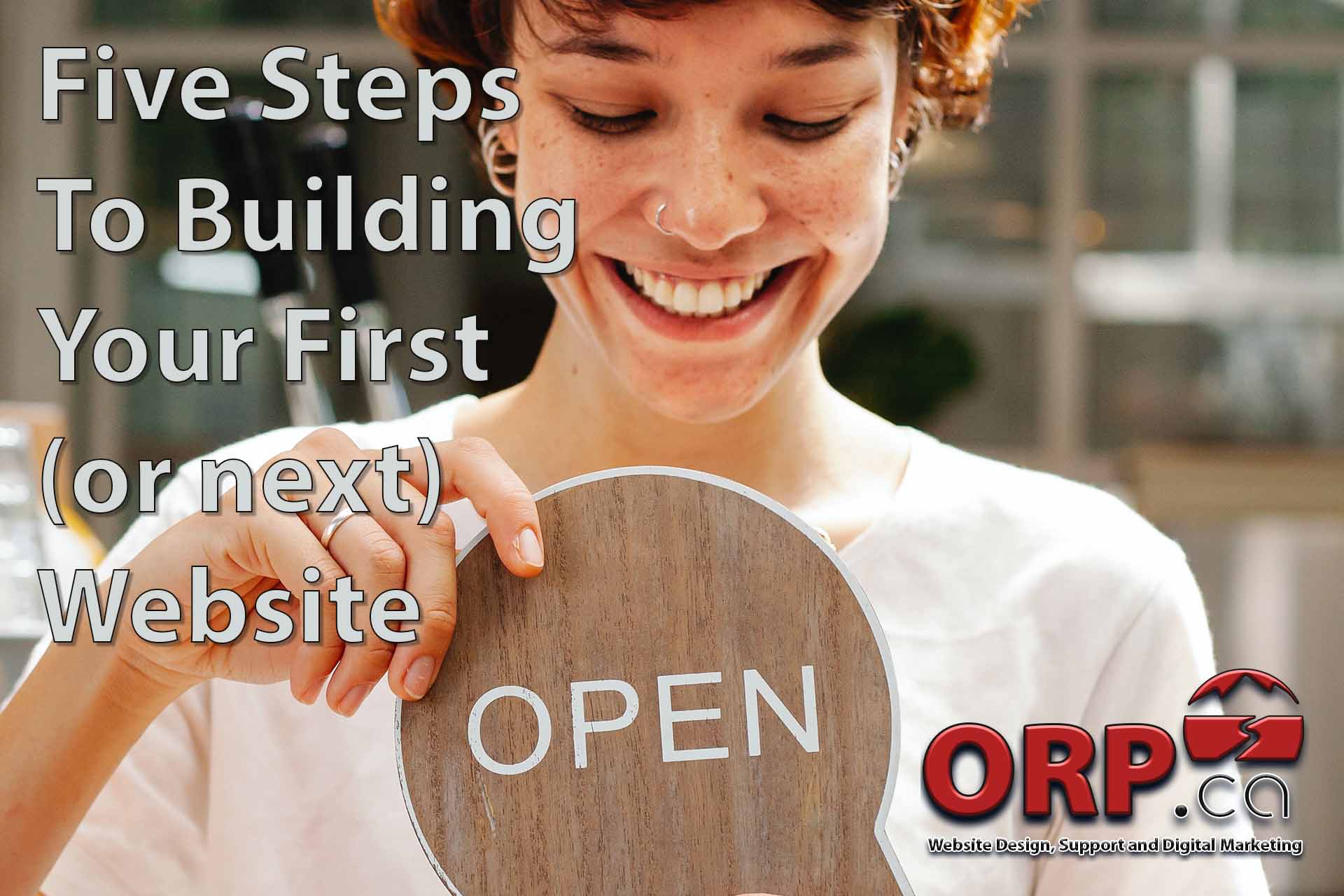 With that in mind, here are the top five things that all business owners should know about this process, along with examples of how to get each step done either on your own or by hiring an agency:
Step 1. Define Your Goals and Audience:
Description: This means figuring out exactly what you want your website to achieve and who you want it to attract.

For example, if you're making a website for your restaurant. In that case, your goal might be to show your menu, and your audience would be people who would want to eat at your restaurant.


On Your Own: Start by determining exactly what you want your website to achieve and who you want it to attract.

For example, if you're a restaurant owner, your goal might be to showcase your menu and attract more dine-in and takeout customers (your audience). This means setting a clear target for what you want your website to do.

Also, identify the purpose of your website. Is it primarily for e-commerce, lead generation, informational purposes, or something else? Determine your target audience, their needs, and preferences.


Hiring an Agency: A professional agency can conduct market research, create user personas and develop an inclusive strategy tailored to your business goals.

User personas are detailed descriptions of the types of people you want to attract to your business. They are based on the expected interests and habits of your ideal customer. With this information, agencies can develop a customized, comprehensive strategy so that your website is designed to meet the needs and preferences of your target audience.

Agencies can also help you refine your messaging and branding.
Step 2. Choose the Right Platform:
Description: This is about picking the right tool or system to build your website. It's like choosing the right kind of paper and pens for writing a letter. You can use simple website builders with ready-made templates (like Shopify or Wix) or create a completely unique website from scratch.

Almost no one develops websites entirely from scratch anymore. Not in the way we did when ORP.ca got started in 2003.

These days, designers and developers use content management systems (CMS) like Joomla and WordPress for the website's framework and design custom templates for the look.


On Your Own: Platforms like Weebly, Wix, or Squarespace offer user-friendly website builders. You can use these platforms to create a basic website with templates and plugins.


Hiring an Agency: Agencies can build custom websites from or leverage more advanced platforms like WordPress or Joomla for sophisticated, content-driven sites. They'll also ensure the website is optimized for your specific needs.
Step 3. Design and User Experience (UX):
Description: Design means how your website looks, like its colours and layout. User Experience, or UX, is about making sure that when people visit your site, they find it easy to use and that everything is in the right place. It's like arranging a store so that customers can easily find what they want.


On Your Own: You can select a pre-made template or theme that mirrors your brand and customize it to some extent.

Note: Pay particular attention to readability, mobile responsiveness, and user-friendly navigation. Using predefined templates can save you some money, but they can also be challenging to work with for inexperienced designers and developers. The end results often create a challenging user experience.


Hiring an Agency: Professional designers and UX experts at agencies can create a custom design tailored to your brand. They'll focus on optimizing the user journey, ensuring your new business website is visually appealing and easy to navigate.
Step 4. Content Creation and SEO:
Description: Content creation is about making everything that goes on your website, like writing text, taking pictures, or creating videos. Search Engine Optimization (SEO) ensures your new website shows up when people search on Google or other search engines. It's like writing a good article and ensuring people can find it in a library.


On Your Own: You can create content such as product descriptions, blog posts, and basic SEO optimization using online guides and tools like Yoast SEO for WordPress.


Hiring an Agency: Content writers and SEO specialists at agencies can develop high-quality, SEO-optimized content, conduct keyword research, and implement on-page and off-page SEO strategies to improve search engine rankings.

Note: Often, agencies are contracted to develop a Content Marketing Strategy and will often work with the business owner or staff to implement it.
Step 5. Maintenance and Security:
Description: Maintenance means taking care of your website after it's launched. It's like regular check-ups for your car to make sure it keeps running smoothly.

Security is about protecting your website from harmful things like hackers. It's like locking your doors to keep your home safe.


On Your Own: You must regularly update your website, plugins, and themes. Also, you will have to implement basic security measures, like creating strong passwords and installing SSL certificates.

Regular backups and ongoing storage are essential in case information gets lost or a website gets compromised.


Hiring an Agency: Agencies often provide ongoing maintenance services. They'll handle routine updates and security monitoring, ensuring your website runs smoothly and securely.

By doing this, the agency saves you time to focus on running your business.
Remember that deciding to build a website on your own or hire an agency depends on factors like your budget, technical skills, and project complexity.
While DIY solutions can be cost-effective, agencies offer expertise and time-saving benefits, especially for a new business aiming to create a professional and customized online presence to make that all-important first impression with website visitors.
As of the publishing of this article (Sept 20, 2023), we are in our 20th year of designing and developing websites for small businesses and rural communities. In that time, we have provided digital and traditional marketing services, written and produced radio and television ads, and created print media from business cards to brochures, billboards and print ads.
We have run regional marketing campaigns and had the pleasure of running a national marketing campaign, gaining media attention for an event from coast-to-coast-to-coast, as we say in Canada.
We look forward to bringing that experience to you and your new or next project.
Discover how our tailored strategies can drive growth for your business. Fill out our contact form to get started.
Photo by Tim Douglas through Pexels.