Top 5 Ways for Small Businesses to Promote Themselves Online (Even Without a Website or Social Media Presence)
In today's high-tech world, an online presence is crucial for small businesses to thrive and reach a wider audience. But are websites and social media platforms the only way to be found online by your ideal client?
While websites and social media platforms are the most common method of promotion used today, some small business owners have neither the resources nor the desire needed to maintain them.
However, you can still effectively promote yourself online.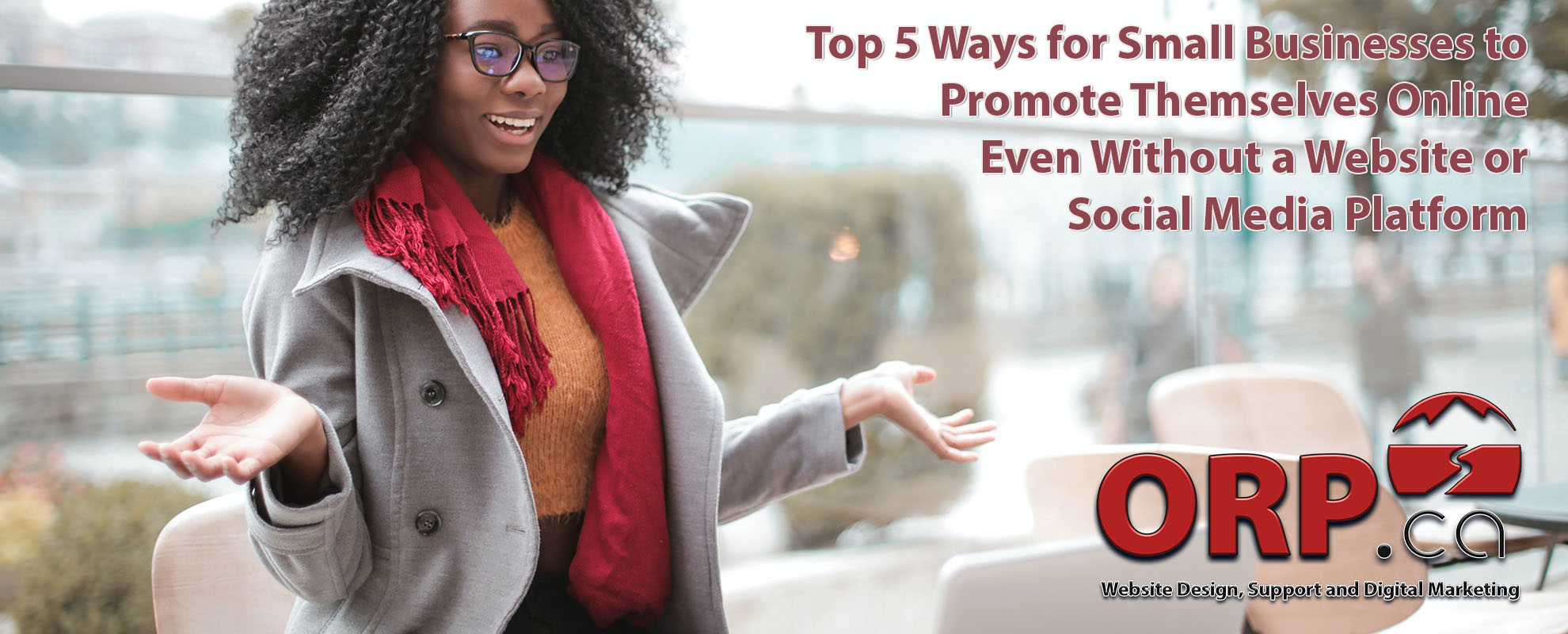 In this article, we will examine five creative and effective ways for small businesses to promote themselves online without using a website or social media platforms.
Leverage Local Business Directories:

Local business directories are online platforms that list businesses by category, location, and other relevant details. Listing your small business in these directories can help increase your online visibility.

Start by identifying popular local directories such as Google My Business, Yelp, Yellow Pages, and Bing Places for Business.

Ensure that your business contact details are current, including your location, phone number, hours of operation, and a compelling description of your products or services.

This way, potential customers searching for businesses in your area can easily find you.

Remember, if you have a website and social media presence, you should also include that information here.

Engage in Online Communities and Forums:

Participating in relevant online communities and forums is an excellent way to establish your small business's credibility and connect with potential customers.

Identify platforms that cater to your industry or niche and actively engage by providing valuable insights, answering questions, and offering helpful advice.

By consistently contributing to these online communities, you can build trust, establish your expertise, and generate interest in your business.

Include a brief mention of your business and contact information in your forum profile or signature (if allowed) to generate leads.

Collaborate with Influencers and Bloggers:

Influencer marketing and collaborations with relevant bloggers can significantly boost your online presence.

Identify influential bloggers or micro-influencers in your industry who have an engaged audience.

Reach out to select people with a personalized pitch, offering your product or service in exchange for an honest review, feature, or mention on their blog or social media channels.

Their positive endorsement can introduce your small business to a new and receptive audience, generating awareness and driving traffic to your offline store or business location.

Implement Email Marketing Campaigns:

Even after all these years, email marketing is a very powerful communication and sales tool for small businesses to promote themselves.

Build an email list by offering valuable incentives to customers, such as exclusive discounts, informative newsletters, or access to special events.

Collect email addresses through in-store sign-up sheets, contests, or by providing an email capture option during customer interactions.

Once you have a list, craft compelling and personalized emails with relevant content, special offers, and updates about your business.

Regularly send out emails that keep your audience engaged and encourage them to visit your physical store or use your services.

Maximize Online Review Platforms:

Online reviews have played a decisive role in shaping business reputations for a long time.

Encourage your satisfied customers to provide reviews on popular review platforms such as Google, Yelp, TripAdvisor, or industry-specific directories.

Positive reviews enhance your online credibility and will influence prospective customers to select your business over your competitors.

Additionally, consistently delivering excellent products or services and responding to customer feedback promptly can help build a positive online reputation, attracting new customers and increasing trust in your brand.
While having a social media presence and a website is very beneficial for online promotion and communication, small businesses can still effectively market themselves without these resources.
By using these creative and accessible strategies, small businesses can thrive in the digital landscape even without a website or social media platform.
Ready to see results? Fill out our contact form today, and let ORP.ca show you how we can help you grow your business with our expert website design and digital marketing services.