Top Five Types of Compelling Content Small Business Owners Should Offer In Their Newsletters
A reality of modern marketing is that small business owners and business professionals need to create compelling newsletter content to engage and retain subscribers.
There are a variety of types of content you can create to ensure your newsletters stand out and offer value to your audience.
Here are the "Top Five Types of Compelling Content Small Business Owners Should Offer In Their Newsletters:"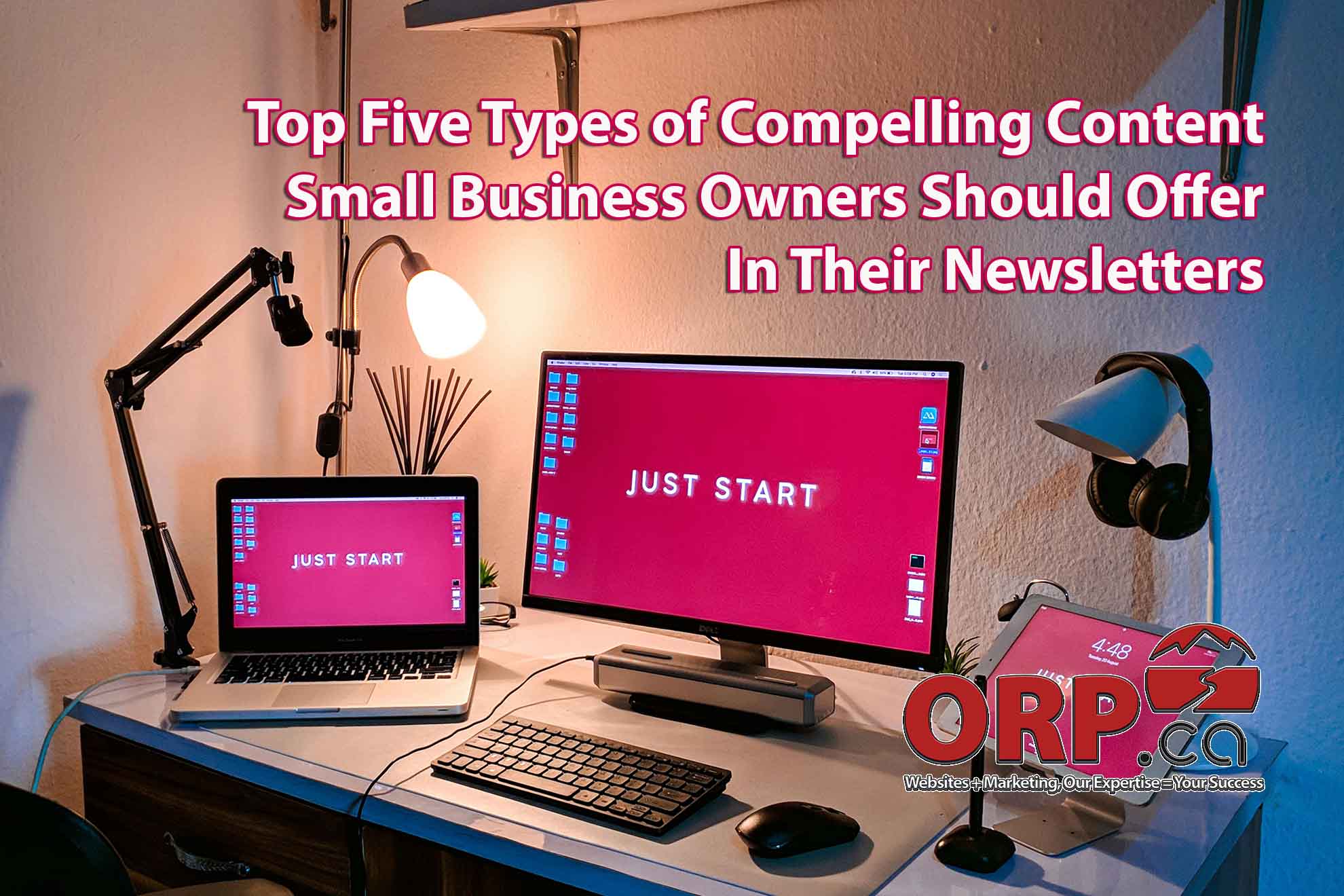 Educational and Informative Articles:
You should always share articles that provide valuable information, whether in your blog or newsletter. You can share articles with subscribers before you post them on your website.
They can also start off as little mini-features strictly for your newsletter that can be expanded on later on as a full article.
Exclusive Offers and Promotions:
It is a no-brainer to entice people to become newsletter subscribers with exclusive deals, promotions and discounts.
You can also use special offers to encourage subscribers to take an action, such as making a purchase, signing up for a service or attending an event.
Limited-time promotions exclusively for subscribers create a sense of urgency, prompting them to act quickly. It also strengthens brand loyalty.
Make sure not to over-send sales-related content. Overselling can quickly turn a valuable newsletter into an email to be ignored and a list to unsubscribe from.
Links to Video Content:
Video is a highly engaging and versatile format that is increasingly popular among online audiences.
Small business owners can create video content, such as product demonstrations, behind-the-scenes looks, interviews, and tutorials.
Initially, setting a video to unlisted can give your newsletter subscribers an advanced look at what you're doing, making them feel more connected to your business.
Behind-the-Scenes Content:
Provide a glimpse behind the curtain of your business.
Examples of behind-the-scenes content include staff profiles, office culture highlights, or the process of creating your products or services.
Showing the human side of your brand can create a connection with your newsletter subscribers and make your small business more relatable and authentic.
Curated Content and Industry Updates:
Are you stretched for time? You can provide links to a selection of curated content from around the web that's relevant to your audience.
According to MailChimp, "Curated content is hand-picked external content you can share on your blog or social media channels. Curating content is more than simply sharing someone else's post; it takes time to ensure you're sharing the right content with your audience to boost your credibility and engagement."
Types of content could include industry news, useful articles, blog posts, or resources.
By curating and summarizing valuable content, you're saving your subscribers time and positioning your newsletter as a go-to source for industry updates and information.
Remember, the key to an effective newsletter is to balance promotional content and providing value to your subscribers.
You need to focus your content on your audience's preferences and interests. Use a mix of these content types to keep your newsletters engaging and informative.
Lastly, pay attention to metrics such as open rates, click-through rates, and subscriber feedback to continually refine and improve your newsletter content strategy.
Is it time to supercharge your small business with email marketing, but you need help with how to begin? Don't wait any longer – click the form below to arrange a virtual meeting with ORP.ca today!
Photo provided by Ola Dapo through Pexels.com.