Top Ten Reasons to Start Your Own Business With Five Small Business Ideas Almost Anyone Can Do
To conclude Small Business Month 2023, we decided to offer up something different for this week's article.
Starting your own business is a significant step that offers a person many advantages, both personally and professionally.
While entrepreneurship isn't for everyone, there are several tantalizing reasons why individuals may choose to embark on this challenging but rewarding journey.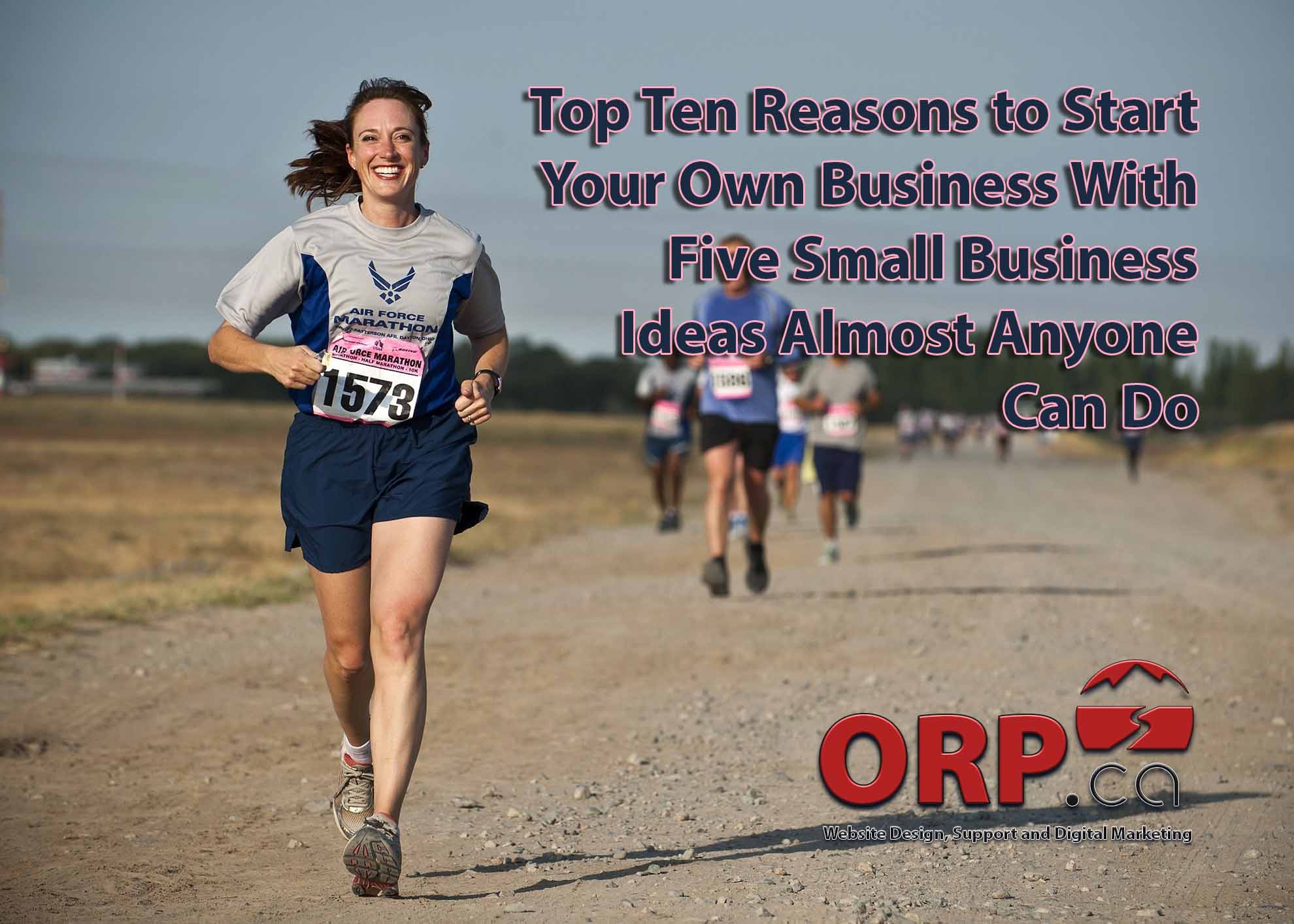 Our own journey into self-employment had many twists and turns. Nothing went in a straight line from points A to B.
This article will explore the top ten reasons a person may want to start a business.
Remember that not all small businesses are full-time ventures. Some people start micro-businesses to catch up on bills, pay down debt, or save up for large ticket items.
Since 2003, when we started business, we have worked with new and experienced business owners looking to grow their vision. We have done this in our role as digital marketers and website designers but also as consultants, offering coaching and as part of committees focused on small businesses.
We'll also include five small business ideas with low entry requirements to help you get thinking about your own entrepreneurial journey.
Please note that these examples are fictitious in that these people and these particular businesses do not exist. However, with over 20 years of experience working with small business owners, the team at ORP.ca can attest to the stories being similar to real people in similar situations.
Financial Independence:
Example: Sarah, a talented graphic designer, started her own design agency, allowing her to control her income and financial future. She no longer relies on a fixed salary, as her earnings are now directly tied to the success of her business.
Pursuing Your Passion:
Example: John, a coffee enthusiast, opened a cozy café where he serves his favourite brews and homemade pastries. His business brings him financial rewards and allows him to indulge in his passion every day.
Flexibility and Work-Life Balance:
Example: A new mom, Lisa, established a freelance writing business. She enjoys the flexibility to set her own hours, allowing her to be there for her child while pursuing a fulfilling career.
Creative Freedom:
Example: Mark, a talented artist, decided to sell his artwork online instead of working for a gallery. This approach allows him to express himself and create art that resonates with his vision.
Personal Growth:
Example: Maria started a life coaching business to help others achieve their goals. She has experienced tremendous personal growth in the process, developing her communication, leadership, and problem-solving skills.
Building Wealth:
Example: Mike started a real estate investment firm. Over the years, he accumulated properties and generated rental income. He saw the value of his investments grow, eventually amassing significant wealth.
Solving a Problem:
Example: Jenny noticed a lack of eco-friendly cleaning products in her local market, so she founded a company that produces and sells environmentally friendly cleaning supplies, addressing a pressing issue.
Job Security:
Example: Tom worked for a corporation that frequently downsized. Fearing layoffs, he started his own IT consultancy firm, which now provides him with job security as he can control his client base and revenue.
Legacy Building:
Example: The Smith family decided to open a family-owned restaurant. Over generations, they expanded the business, creating a beloved institution that has become a part of the community and a legacy to pass down.
Impact on the World:
Example: Emma co-founded a nonprofit organization that provides clean water to underserved communities in developing countries. Her business is a testament to the power of entrepreneurship to positively impact the world.
Although these are fictitious examples, as indicated above, they are excellent and accurate representations of people who have started their own businesses.
Five Small Business Ideas with Low Entry Requirements:
As promised, here are five small business ideas that do not take a lot of resources to get started with. In fact, you can use equipment and materials you may already have at home for most of them.
Freelance Writing:
Turn your writing skills into a business by offering freelance writing services. All you need is a computer and an internet connection. Many websites and businesses are in constant need of quality content.
Handmade Crafts and Art:
If you're skilled in crafting or creating art, consider selling your products online through platforms like Etsy. This low-cost venture allows you to turn your creative talents into a business.
Personal Shopping or Styling:
If you have a keen eye for fashion, you can start a personal shopping or styling service. It's ideal for fashion enthusiasts who want to help others look their best.
Pet Sitting or Dog Walking:
If you love animals, consider offering pet sitting or dog walking services. You can start small by caring for pets in your neighbourhood and gradually expand your clientele.
Tutoring or Online Courses:
If you have expertise in a particular subject or skill, you can offer tutoring services or create online courses. These can be marketed through various online platforms, making it a low-cost way to share your knowledge.
Starting your own business doesn't always require a significant investment.
With a strong business idea, determination and creativity, you can embark on your entrepreneurial journey without breaking the bank.
Evaluate your passions, skills, and the market to find a business idea that suits your goals and budget, and then work towards building the business of your dreams.
Do you have a small business idea that you would like advice on? Fill out the form below and schedule some time to talk online.
Photo provided by Pixabay through Pexels.com