About: Timeline for Pages - What Northern Ontario Small and Mid Sized Businesses Need to Know
Attention Sudbury and northern Ontario businesses, organizations and community groups!
All Facebook Pages will feature the new Timeline design starting March 30th, 2012. Even if you miss that date, you should go into your Facebook Page as soon as you can to make the necessary adjustments.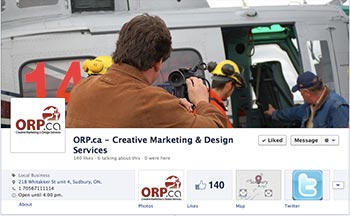 Cover Photos: To get ready you need to choose a Cover photo for the top of your page.
Choose a photo or image that best represents your company. Start simple. You can always change it later. Select a photo of your store front, company vehicle or a key product that would best represent your business. Make sure it is 851px wide by at least 315px high.
Inset Photos: In Timeline for Pages, your profile photo becomes your inset photo.
That's the smaller image to the bottom left of your Cover photo in the banner. (See the photo above and to your left in this post for an example.)
There are many people out there doing creative and interesting things with their Timeline Cover and Inset photos, but it might be a better idea to start a little simpler, and evolve things over time. Your logo is a good place to start.
Pages vs. Profile: One major difference between Timeline in your Profile and Timeline for Pages is that you cannot add a "Life Event" in Pages.
This does not seem to make much sense, as a businesses, public figures & organizations want to show how they have changed over time. I anticipate that Facebook will likely include this feature in the not-too-distant future.
Pins: Pins are a very useful marketing tool added to Timeline for Pages. Pins allow Page admins to select events they want to highlight, and make sure that they stay near the top so others can see them as well. Anyone who has posted something important that has disappeared from view because of new posts will understand the benefits of Pins. Follow this link to step-by-step instructions on how to Pin content to the top of your page.
Messages from Fans: The most important new feature added to Timeline is the ability to receive messages as a page.
This is big, as now people who want information can message you without writing on your wall. Most people find it intimidating to write a question on Facebook Page walls.
In some of the seminars we have presented, some people have said it feels like they are making some sort of commitment by doing so. Other times we have been told people are worried they might look stupid.
Now people can ask questions without any of the baggage attached to doing it publicly. Since social media networking is about communication and building relationships this is a big improvement. It goes a long ways towards building the Know - Like - Trust factor.
Overall, Facebook's Timeline for Pages will offer many added benefits to northern Ontario businesses and organizations that choose to take advantage of it. And as Facebook is always changing and evolving the best is yet to come.
ORP.ca has worked with a wide range of businesses in Sudbury and across northern Ontario since 2003. Specializing in online and inbound marketing, our team of professionals have extensive experience in new media as well as the traditional.